2015
Sure, whatever, a 2015 retrospective. It's no best-of list, reflection on the mapping industry, nor quantified-self infographic. I just thought a bit about what was important in my year—mostly, themes of friends, family, health, and beer—and sketched a few things, in map form of course. So yeah, it's personal stuff that nobody else will care about, but hey, it was a nice exercise.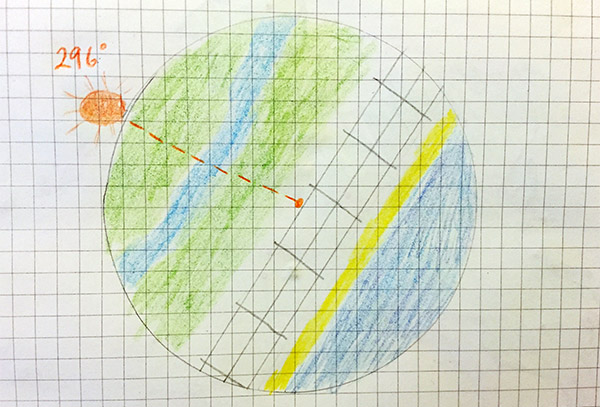 1. The Setting Sun
My grandmother, who would turn 96 today, passed away in March. We miss her dearly, of course, but there's a comfort in seeing her honored in the sky every single day. Grandma appreciated a sunset like nobody else, and never missed a chance to greet "Mr. Moon" at night. During family vacations to the Jersey Shore each summer she led us all in the daily habit of gathering on the porch to watch the sun set over the marshes. Lately those shore vacations have coincided with my grandparents' anniversary, so here in this map is the azimuth of sunset over Ocean City, New Jersey on July 25, 2015 when, despite her absence, the family marked their 73 happy years of marriage.

2. The Places You'll Go, The People You'll See
This is a map of every place I visited long enough to stay at least a night in 2015. It wasn't much of a year for travel but it did involve more out-of-town conferences than usual (NACIS, State of the Map US, even AAG a bit), and that brings extra appreciation of the people in my professional community. I've been in professional cartography for ten years now, and it's such a tight-knit, friendly world that a business trip is never really business—it's a gathering of friends. Special thanks to NACIS, the conference and society I've been part of for a decade, where I've learned a ton and formed many a lasting close friendship.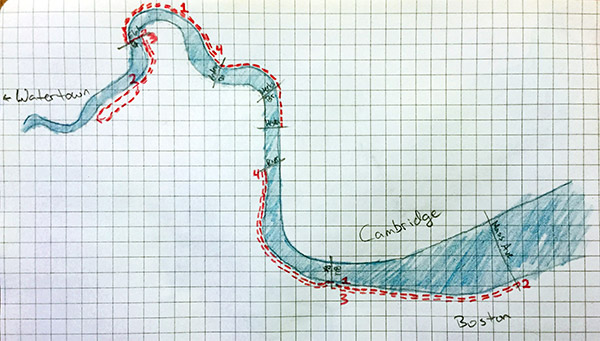 3. Usual Running Routes
This is a pretty new habit. I used to scoff a bit at runners but now wonder why I haven't been doing it for years, given that I live adjacent to miles and miles of paths along the Charles River. I'm certainly running no marathons, but the ability to go 3 or 4 miles on a regular basis feels great when a few short months ago even 500 feet probably would have wiped me out. Plus, you know, eventually you reach an age where it becomes necessary to worry about the diet of beer and cheese you picked up back in Wisconsin.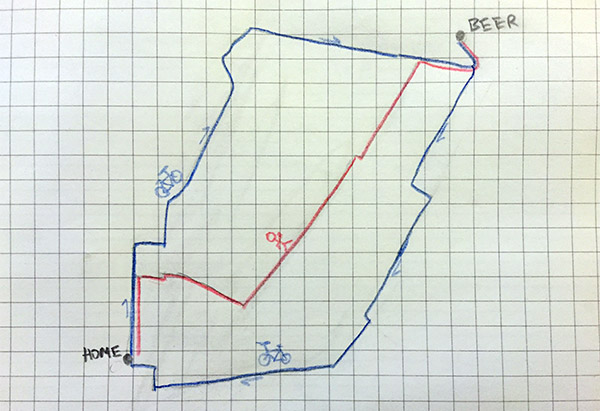 4. Where Everybody Knows Your Name
I tweet about Parlor Sports a lot. This makes me sound like a sad alcoholic, probably, but it's hard to stress enough how much this place is like a second home and its people a second family. Whether it's to watch one of Boston's illustrious sports teams (Go Pats), or to meet Mike and Jake and Ryan and Sydney for #geobeers, or simply to say hi to James or Garvey or Jon or Nikki behind the bar, it's amazing to go to a place where indeed everybody knows your name. So here are my routes to and from the bar, depending on mode of transportation.
Mappy 2016!